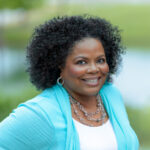 Donna's Story:  Donna is a visual storyteller who loves helping people express themselves through her photography and video talents.  Donna has a knack for making her clients feel at ease and to allow them to love being themselves.  She is known to climb trees or lie on the ground flat on her belly to capture her subjects in their element.
Donna sought out WiNGS with the desire to grow her photography business and take it to the next level.  Donna completed the 13-week Business Plan Training Program in early 2019 and is currently participating in the Business Launch Execution Program.  
Donna credits WiNGS for how much she has grown as a business woman.  "Before joining WiNGS, I knew photography and videography but I knew nothing about business. The Women's Enterprise Center offers a vast multitude of resources to build a solid business foundation of which I've benefited. Not only that, but through my involvement with WiNGS my self-confidence has grown tremendously. I feel like I'm a part of a family here with the ongoing workshops and business coaching. I can't express enough how invaluable these services are and how much I appreciate the dedication of the staff and volunteers."
Want to Become a Powered By WiNGS© Business Owner? For more information on WiNGS full suite of business development programs and services for women, sign-up for an upcoming information session today!
Disclaimer:  WiNGS does not endorse the content or accuracy of any listing or external website. WiNGS is not responsible and expressly disclaims all liability for, damages of any kind, arising out of the use, reference to, or reliance on, any information or business in this list.  Although this list will be periodically updated, WiNGS does not guarantee that the details provided are correct, complete or up-to-date.