Your Path to Financial Success
We offer a full suite of services designed to help you achieve your goals, including financial education, individualized financial coaching, credit-building, benefit screening, and more.
Our flexible programs are designed to fit into your life, including evening & weekend classes, Spanish-language classes, and an on-site space for activities with your kids.
We welcome everyone – regardless of background or circumstances. Come as you are and we'll help you get where you want to go.
$2500
Average debt reduction of coaching participant after 12 months.
Our Services
Financial Education Classes
We offer our Fluent in Finances series, a 4-week workshop that starts with setting a budget that fits your needs today, while working toward your financial goals for the future. In addition, we have 90-minute classes focused on specific financial topics such as: buying a home, building your credit, setting a savings goal, and investing your savings.
SIGN UP NOW
Benefits Screening
Review your monthly budget with a WiNGS team member to see what benefits and tax credits might be available to you. If needed, they connect you to resources like: food banks, electricity assistance, or medical resources.
Financial Coaching
A WiNGS Financial Coach support you on your path to financial wellness by providing support, encouragement, and accountability.  Together, you'll work through your personal goal and the small steps that will get you started.
SCHEDULE A COACHING SESSION
Credit Building Products
A good credit score is important when you get ready to buy a car, rent an apartment, sign up for utilities like water and electricity, and even when you apply for a cell phone plan. Credit WiNGS is a credit-building option for those with little to no credit history or who are looking to improve their credit.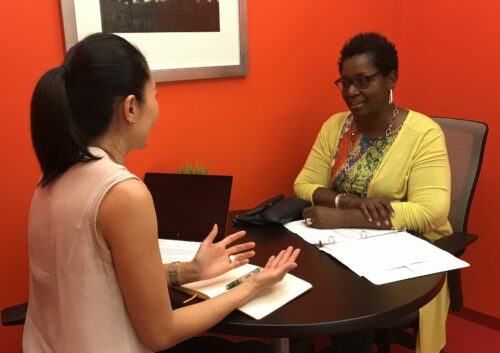 "I didn't know how to save money. Money is scary. I didn't want to touch it. But WiNGS helped me break it down into something that makes sense. Now, my financial coach is a big part of my life. She holds me accountable."
– RiSE Student