Thursday, May 16, 2019 –
Omni Dallas Hotel
For our community to have a healthy, vibrant city and workforce,
we must find ways to bring everyone along.

Join us for a critical conversation on how each of us can play a part
in turning Dallas into an opportunity city for all.
(Individual ticket sales available in 2019)

PANELISTS
Andrea Levere – President, Prosperity Now
Alfreda Norman – Senior Vice President, Federal Reserve Bank of Dallas
Prashanthi Ravanavarapu – Director of Product Architecture for Financial Participation and Health, PayPal
MODERATOR
Courtney Collins – KERA Lead Reporter, "One Crisis Away"
The WiNGS Mentors & Allies Awards Luncheon recognizes individuals and companies whose leadership and commitment positively impact women.
2019 LUNCHEON CHAIR
Tiffaney Dale Hunter
Award-winning Business Leader, Author and WiNGS Board Member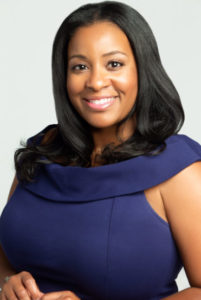 The 2018 Mentors & Allies Awards Luncheon raised $230,000 for programs helping women. Read more about last year's awardees and speakers.