FOR IMMEDIATE RELEASE
March 4, 2020
CONTACT:  Emily Wingate, ewingate@sunwestpr.com, 469-547-0212
WiNGS Dallas Announces Jamie O'Banion for Mentors & Allies Luncheon
Beauty entrepreneur will serve as keynote at the nonprofit's annual luncheon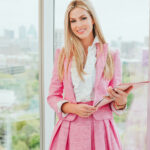 DALLAS – WiNGS of Dallas announces Jamie O'Banion, Founder and CEO of BeautyBio, as the keynote speaker for their annual Mentors & Allies Luncheon. The organization, formerly known as the YWCA of Metropolitan Dallas, will host the event on May 14, 2020 at The Statler. The event will be hosted by co-chairs Jasmin Brand and Jolene Risch with Michelle Hudson as the Underwriting Chair.
Jamie's roots in the beauty lab, working alongside her physician and biochemist father, inspired a line formulated with clinical-grade skincare ingredients delivered in clean formulas with visible results. After launching an award-winning retinol system in 2011, Jamie followed up their debut one year later with a patented at-home microneedling tool, GloPRO®, that not only made waves in the industry, but helped steer the burgeoning conversation about at-home self-care.
"WiNGS is all about supporting and empowering women to live their best lives," said Kate Rose Marquez, CEO of WiNGS. "As a female entrepreneur making waves in her industry, Jamie is the perfect person to embolden attendees to overcome, achieve, thrive and uplift their communities."
The annual Mentors & Allies Luncheon brings together Dallas' most prominent citizens, including leaders in the corporate and philanthropic communities to increase awareness, recognize achievements and raise funds to support women and their families. In addition to Jamie O'Banion's keynote, WiNGS will honor local advocates including Ally of the Year, Rosalyn Dawson Thompson, President and CEO of Texas Women's Foundation; Mentor of the Year, Sherif Mityas, Chief Experience Officer of TGI Fridays; Ebby Halliday Volunteer of the Year, Brandon Turner, Tolleson Wealth Management; and Corporation of the Year, European Wax Center.
Sponsors for the Mentors & Allies Luncheon include Presenting Sponsor, Toyota; Champion Sponsor, The Statler Dallas; Mentor Sponsors, SunTrust Banks and Oncor Electric Delivery Company; Ally Sponsors, AlixPartners, Deloitte, Ernst & Young, Frost Bank, Holmes Murphy & Associates, Hudson Peters Commercial, KPMG, ORIX Foundation, Perkins and Will and United Mechanical; and Coach Sponsors, Capital One, Anne Calhoun and Michael Duffy, TGI Fridays, Starlette Johnson, Frank and Helen Risch, Laura Ryan, Texas Women's Foundation and Weaver.
Members of the WiNGS programs build confidence and skills on their path to a new life as they start families, work toward financial security or start small business. To learn more visit https://wingsdallas.org/ or find WiNGS on Facebook, Twitter, Instagram and LinkedIn.
About WiNGS:
WiNGS is a non-profit agency with a 112-year history of supporting women in Dallas as they realize their fullest potential and a path to a better life. The organization, formerly known as the YWCA of Metropolitan Dallas, served nearly 2,000 individuals in Dallas County last year. WiNGS programs help women become strong mothers, advocates for their own health, successful in the workplace, financially secure and powers their dreams of entrepreneurship. WiNGS is headquartered at the WiNGS Center at Ebby's Place, named after the late Ebby Halliday Acers, whose life exemplified extraordinary integrity with a focus on empowering women.
For more information and to get involved, please go to: www.wingsdallas.org, for tickets and sponsorships to the luncheon, please contact Laura Gray: lgray@wingsdallas.org