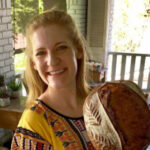 Stephanie's Story: When WiNGS member, Stephanie Leichtle-Chalklen, first started Kuluntu Bakery she set off on a mission to build community through baking and breaking bread. In fact, the cottage bakery's name means community in isiXhosa, a South African language of the amaXhosa people. Now located in Oak Cliff near Bishop Arts District in Dallas, Kuluntu started in South Africa. Stephanie and her husband operate the business out of their home, where they offer a full menu (specializing in sourdough bread) and host events like baking classes and Ubuntu Supper Club.
Stephanie sought out WiNGS Women's Enterprise Center to reevaluate and tailor Kuluntu to Dallas in an efficient and effective way. Stephanie completed the 13-week Business Plan Training Program 2019 and is currently participating in the Business Launch Execution Program which offers her the opportunity to meet with a Business Adviser regularly.
Stephanie plans to shift Kuluntu Bakery to a nonprofit model, eventually opening up a brick-and-mortar storefront as a women's training facility. And, through it all, she plans to have WiNGS by her side as a resource, sounding board and partner.
Want to Become a Powered By WiNGS© Business Owner? For more information on WiNGS full suite of business development programs and services for women, sign-up for an upcoming information session today!
Disclaimer: WiNGS does not endorse the content or accuracy of any listing or external website. WiNGS is not responsible and expressly disclaims all liability for, damages of any kind, arising out of the use, reference to, or reliance on, any information or business in this list. Although this list will be periodically updated, WiNGS does not guarantee that the details provided are correct, complete or up-to-date.